MADHOUSE re:exit
MADHOUSE re:exit
An Access All Areas Performance Company production
Dates and Venues
Shoreditch Town Hall, London
13 - 28 March 2018
Brickworks, Barton Arcade, Manchester
17 - 26 May 2018
One of the most important pieces of theatre I have seen in recent years… Access All Areas have released a creative call to arms.
Londontheatre1.com
About the production
Inspired by a refusal to be silent, and a history of being ignored, five learning disabled artists take us on a wondrous adventure underground.
A goddess, a baby, a bird, an eater and an escapist guide us through a maze-like institution, growling to be heard, and waiting for the revolution that is forever promised.
As they tear back the walls to their lives, past and present spin together in a powerful expression of what it feels like to have a learning disability in today's world.
Over two years, MADHOUSE re:exit has built on the legacy of Mabel Cooper, a resident of a long-stay hospital for people with learning disabilities, who pressed the button that blew up one of the last of these institutions in the UK. Now, award winning theatre company Access All Areas returns with a fantastical, disruptive, immersive experience that explores what this history means today.
---
Madhouse Pop Ups
Artists took their characters all over London and beyond. Characters popped up at: Liberty Festival; South London Gallery; Steakhouse Live at Arts Admin; Rich Mix; The British Medical Association; Duckie and The Place in London and at The Lowry in Manchester.
---
Madhouse, My House?
Access All Areas was funded to run a three-year digital and creative learning programme to accompany MADHOUSE re:exit production to ensure that as wide an audience as possible, of all different abilities, could engage in the performance and surrounding activities.
The resulting project was Madhouse, My House? 
---
MADHOUSE re:exit was developed with Barbican Centre, Shoreditch Town Hall, The Lowry, Battersea Arts Centre, Wellcome Trust, Arts Council England, and the Open University.
Photography by Helen Murray
The powerful creativity of the artists doesn't just own the way the story is played back to us as immersed audience members, but it demonstrates a powerful activism and rejection of state-enforced failings.
Entertainment Focus
Cast
David Munns
The Escapist
Creatives & Crew
Patient 36

Francesca Burgoyne

Paul Christian

Jolene Sampson

Rachael D'Arcy

Tyson Bushe

John Danielson Fuller

Luke Fox

Rufaro Asuquo

Neil Thomas Bennet

Deen Hallissey

Kali Joy

Ellen Goodey

Singers

Adam Smith

Kali Joy

Creative Support

David Thackeray

Hayley Hill

Lesley Ewen

Kat Bond

Jess Mabel Jones

Amy Carter

Sharron Casey

Angela Chadwick

Daryll Duncan

Chrissy Jones

Charlotte Little

Cathy Rothwell

Anna Ward

Director

Nick Llewellyn

Dramaturg

Max Barton

Designer

Joanna Scotcher

Costume Designer

Carley Hague

Costume Supervisor

Annelies Henny

Lighting Designer

Katherine Graham

Associate Lighting Designer

Stuart Glover

Movement Director for DJ Hassan

Ita O'Brien

Video Designer

Nathan Theys

Animator

Alex Uragallo

Sound Designer

Jethro Cooke

Production Manager

Ian Moore

Deputy Production Manager/Video Engineer

Dom Baker

Stage Manager

Dannii Ryalls

Deputy Stage Manager

Ina Berggren

Technical Stage Manager

Zak McClelland

Construction Manager

Elouise Farley

Production Sound

Tom Hackley

Production Electricians

Laurence Russell

Andrew Stuttard

Jack Coker

Carpenters

Matty Guarino

Curtis Campbell

Dario Fusco

Oscar Selfridge

Chris Ashenden

Birdcage construction

Creative Metalwork

Lead Scenic Artist

Paloma Hernández

Scenic Artists

Chiara Pecchioli

Peter Arnold

Driver/Runner/Design Assistant

Remi Bumstead

Executive Producer

Patrick Collier
a sharp, urgent critique… very important… very entertaining… strong performances… intricate and elaborate design… a memorable, one-of-a-kind work.
Upper Circle
MADHOUSE re:exit in production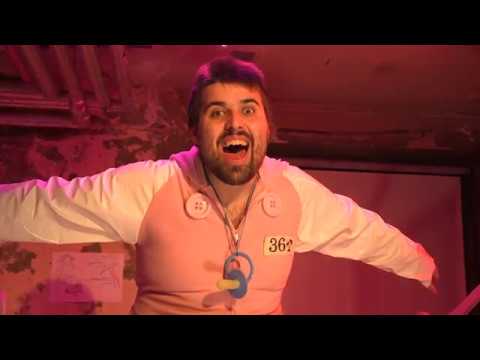 Proudly and defiantly other… The actor's loud, proud and shameless commitment to presenting the stigma, trauma and pain they are, have been, and will continue to be subjected to is a gesture of empowerment; empowering not just for the actors, but for all those living with disabilities.
A Younger Theatre